Historical Restoration – A Video Showcase
Art~Deco~Revival
Once upon a time, a plain white powder room hid in the midst of an elegant Art Deco lake-front home…
Dressing-Up The Craftsman
For decades, this Craftsman-style house was known as the "Big White House on the Corner"…
Preserving La Grande Dame
A Historic Victorian Grande Dame from Chicago, one of a handful of wood-frame homes that survived the Great Chicago Fire, was starting to show her need for TLC…
Antique Paint
Restoration Project
This 1889 Chicago building, with its two 3-story metal bay windows and large metal cornice, needed not only a color makeover, but also a major paint restoration.
See why this project earned us the 2012 Commercial Restoration PIPP Award and Grand Prizes for both the 2012 TOP JOB Award and the 2012 Chicago Painted Lady competition.
Regulatory compliance is critical to the success of a paint restoration project
Paint restoration, that it be historical or not, requires compliance to potentially several levels of regulations For instance, complying with City regulations, especially in big cities like Chicago, is very important. Gaining work access to sidewalks, allies and the street requires permits issued by the city. Failure to get those permits ahead of time can result in a project shutdown and fines. Power lines and communication lines can also be a major concern. Usually, if closer than ten feet to the work area, the lines will have to be wrapped or moved at substantial expense.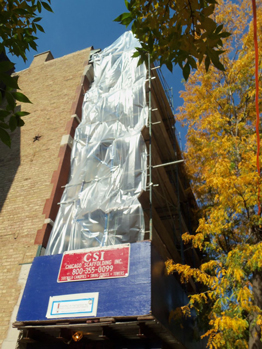 Environmental Compliance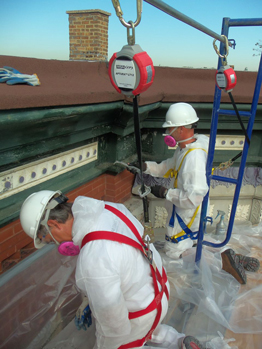 Worker Safety Compliance
Compliance with federal regulations is also of critical importance. As per OSHA rules, whenever working at more than six feet from the ground, painters are required to use fall-arrest protection, along with hard hats if scaffolding is involved. Buildings built before 1978 also require compliance to EPA's RRP rules to contain lead dust generated during restoration projects. Failure to meet those regulations can result in huge fines. Using an EPA-certified Lead-Safe Firm and a company committed to observing all levels of compliance, like Painting in Partnership, is crucial to the success of a historical restoration project.
Restoration often requires reproducing lost decorative elements or rotted wood trim.
Decorative elements, on old buildings, have a tendency to fall off over time. Wood trim also deteriorates and rots away. To do a thorough restoration job, these elements should be faithfully reproduced and replaced where they belong. The attached pictures show some elements that were replicated in an exterior-grade plaster, and sealed with linseed oil before being primed and painted. Custom-made millwork is often required to replicate old woodwork that has wasted away. Such work is the landmark of top quality historical restoration.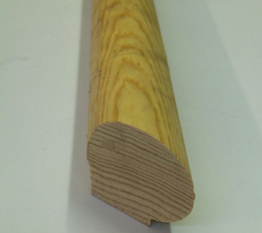 Custom Millwork
for Restoration Project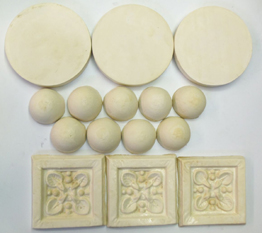 Plaster Reproductions
of Exterior Ornamentation
Protecting the past … inspiring the future
For us, Historical Restoration is an opportunity to preserve and honor the craftsmanship of bygone generations.
Through our historical restoration work, we help the current and future generation to appreciate the heritage that is all around them, sometimes within their own homes.
Painting in Partnership has established partnerships with both the Barrington Area Historical Society and the Skokie Historical Society where we give lectures and sponsor special exhibits.
We bring that Custodian outlook to all the work of Painting in Partnership.
Why restoration makes sense!
Wood restoration preserves old windows, original doors, trim and timbers. Replacing these components with similar materials would be extremely expensive. Using off-the-shelf materials often compromises the integrity of the house.
Restoration saves money! Restoring plaster also makes sense, because plaster is a material that allows the house to breathe, while being much more mildew-resistent than drywall. Restoring plaster preserves the originality of a house.
HEPA sanders and infrared strippers keep paint removal safe
For interior painting, as well as exterior painting projects, we use paint removal equipment and products that are both safe and "green". Our sander of choice is a Festool orbital sander, coupled with its companion high-efficiency and EPA-compliant HEPA vacuum. We also use infrared strippers. They heat up the old paint to a maximum of 600 degrees, which is well below the vaporization level for lead. On occasion, we also make use of environmentally friendly chemical strippers.
This Old House gets TLC, even though it is not "Historic"
Many people who come to us for painting and decorating have older houses or "Vintage" houses. Only some could be categorized as "Historic" houses. However, all our clients have one thing in common: they care deeply about their houses and the heritage they represent. Our clients want to do paint restoration the right way, the first time. They value the knowledge, craftsmanship and care that Painting in Partnership and our house painters offer.
Preserving old houses requires specialized knowledge and education
Doing paint restoration on an old house requires many skills that other painters do not have. For instance, it requires knowledge of the old materials that were used and how to repair them, without needing to replace them, where ever possible. It also requires the use of state-of-the-art paint removal methods, equipment and methods. To sharpen our knowledge, we belong to several associations in the preservation field and take classes at Northwestern University's Historic Preservation department.
Award Winning Restorations
Over the years, Painting in Partnership has received several National Awards for its restoration projects, including two Top Job Awards Grand Prizes (2006 and 2011) and a First Place Top Job Award in 2007 from the American Painting Contractor magazine. In all, we have won four Awards from the Top Job Awards and seven for the Picture it Painted Professionally Awards sponsored by PDCA.
View the American Painting Contractor Articles