Decorative Painting and Faux Finish
What You Can Expect
Expertise with traditional and historical finishes
Expertise with modern and cutting-edge finishes
Award-winning execution
Professional representative samples
Work that matches samples
To be included in the creative process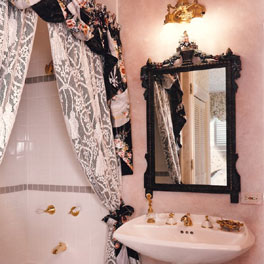 For a Touch of Soft Elegance
What We Do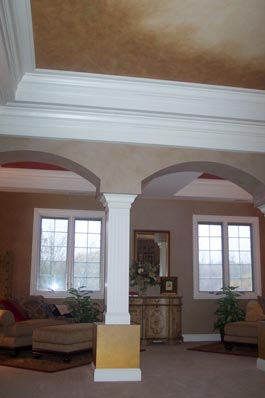 Ceilings Should Not Be Overlooked
Brick Imitation
Geometrics
Glazing
Graining
Leather finish
Lime Wash
Lime-based finishes
Luster Stone
Marbleizing
Marmorino
Pearlescent finishes
Sponging
Stenciling
Stone Imitation
Strie
Striping
Suede finish
Trompe L'oeil
Textures
Venetian Plaster … etc.
Solutions For Your Concerns
Watch this short video to discover a wide range of Decorative Finishing techniques that can help
you overcome some of your trickiest decorating and design challenges.
Decorative Solutions
Accentuating Architectural Features
Adding Patina to Metal
Adding "Period" Elements to Your Decor
Balancing a Space
Disguising Unsightly Areas
Adding Texture to Surfaces
And Much More…
Venetian plaster gives the look of marble, without the seams
Venetian plaster was invented centuries ago in Italy to imitate the look of marble. The original ingredients were slaked lime, lime putty and marble dust. There are many modern versions of these ingredients, including synthetic and acrylic versions. The application process is time consuming and requires a high level of skill. It involves a coat of quartz primer and a minimum of two to four thin coats of venetian plaster, applied with a knife or trowel. The surface is then polished with a similar tool or an ultra fine sand paper. The result is one-of-a-kind, artistic, fireproof and mildew-resistant.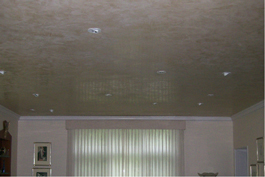 600 Square Foot Ceiling
in an Art Deco Living Room
Venetian plaster, combined with stenciling, is suitable for classy bathrooms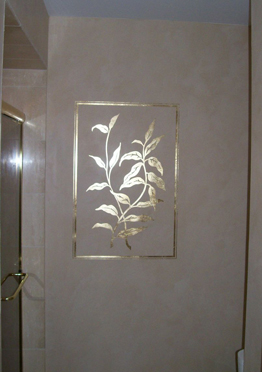 Venetian Plaster Combined with Stenciling
As shown in the attached picture, a stenciled design can be added to Venetian Plaster to produce a stunning effect in a bathroom environment. By nature, Venetian Plaster is mildew-proof and can be repaired if damaged in the future. For an even more dramatic effect, the stencil design can be gilded with real gold leaf or its imitation counterpart, known as Dutch Metal. If the last alternative is used, the metal leaf should be sealed after it is installed.
Award–winning faux painting
Painting in Partnership's decorative finishing and faux painting work has earned us many national awards from PDCA and a TOP JOB Award from American Painting Contractor magazine. These awards are testimony to the highest standards of design and painting craftsmanship that we follow on our house painting projects.
Representative samples that deliver
For every decorative finish or faux painting project we work on, we produce a representative sample for your approval. If alterations need to be made, the changes are made at no additional charge to you. Once you approve the sample, our task becomes about faithfully reproducing the decorative finish depicted on the sample onto your desired surfaces.
Decorative finishes from historical, to traditional, to cutting-edge
The decorative finishes and faux painting work we do span the entire spectrum, from historical paint finishes and more traditional styles, to the more modern and cutting-edge decorative painting techniques. The manufacturers in the faux finishing field constantly innovate by introducing new products and techniques. We make it our business to contribute that new knowledge to you.
You can be an integral part of our creative process
"We Paint in Partnership with YOU!" is our slogan. It means that, when we do a decorative finishing or faux painting project for you, we work with your ideas and vision for the project and combine them with ours to arrive at a result that delights you, every time.