Exterior Painting
What You Can Expect
Respect and care for your landscaping
Superior LONGEVITY
Your interior property kept safe while we work outside
To be educated about maintenance issues that will add to the life of your paint job
To be kept safe from exposure to lead dust in your pre-1978 housing
A two-year warranty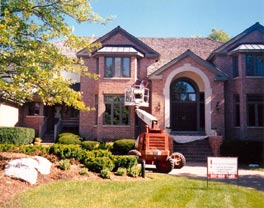 Even Booms Are Put to Work
What We Do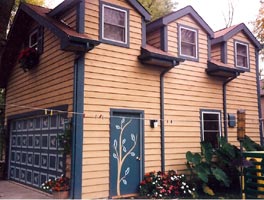 Even The Garage Is Not Forgotten
Clean surfaces and eliminate mildew
Remove and replace failing caulk
Remove and reinstall downspouts
Restore rotted wood with epoxy
Use rust inhibitors on rusty metals
Daily cleanup of site
Create safe access to roofs
Use a variety of primers
Use moisture meters
Use the best paints for the application
Winner of many national awards
Painting in Partnership has earned many national awards for its exterior painting work. These awards have included the Grand Prize of the TOP JOB award given by the American Painting Contractor magazine, as well as a First Place Award from the magazine. Additionally, Painting in Partnership has won two PDCA Exterior Painting Awards.
Keeping you safe in your pre-1978 house
Painting in Partnership is certified by EPA as a "Lead-Safe Firm" and our painters are trained to use the lead-safe practices prescribed by the EPA. When we disturb surfaces where lead is present, we set up containment to prevent the dust generated from the house painting project from traveling beyond the work area. After the work is completed, we clean up the work area using EPA-prescribed methods. We follow these work practices to prevent lead dust from creating a hazard for you, your family and the environment when we work on your exterior painting projects.
Looking beyond painting to be of service to you
From our initial walk-through, before we take on your exterior painting project, until the time we complete it, we look for suggestions we could make to improve the functionality of your house or reduce the need for future maintenance. For example, we check your gutters for proper drainage. We also check your mortar and masonry work for cracks or deterioration. Additionally, we check the landscaping and make recommendations to ensure a proper distance from painted surfaces.
Moisture meters ensure that the paint will stick
Painting wood when the moisture level in the wood exceeds the permissible level will cause paint to fail. The reason is that the moisture will prevent the primer or coating from penetrating into the wood fibers to create good mechanical bond, because the space is already occupied by moisture. Painting in Partnership uses moisture meters to test wood prior to doing exterior painting.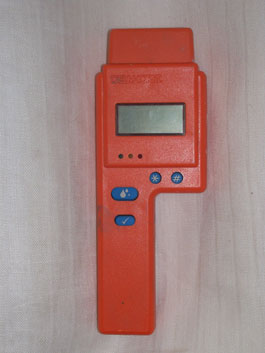 Moisture Meter Used in Interior Painting & Exterior Painting
We recommend periodic maintenance painting
Periodic maintenance to your exterior painted surfaces can add years to the longevity of your paint job. We recommend to our clients that we come out, every two or three years at the most, to look for signs of failing caulk or flaking paint. To do maintenance painting at that time to correct those few issue will literally add years to the useful life of your exterior painting.