Murals and Mural Painting
What You Can Expect
Thirty years of experience
Versatility in many styles
A commitment to capture your vision and please you
A way to preserve memories
An opportunity to bring a fantasy to life
A way to disguise unsightly areas
To be surrounded by what you love
Kids' rooms that delight kids and Mom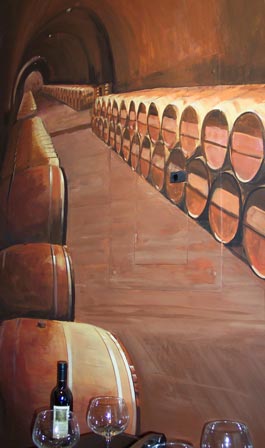 Where is the utility panel?
What We Do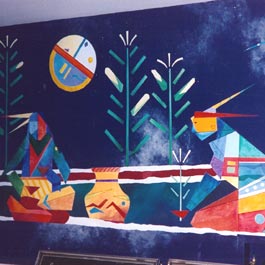 A Blue People Fantasy
Present you with pictures to help narrow the field of options
Produce drawings, sketches, renderings or representative samples as appropriate
Work on canvas or directly on surfaces
Paint on walls, ceilings or floors
Paint objects, frames and furniture
Paint portraits
Produce watercolor renderings of your home
We Use Art to Bring Your Dreams to Life!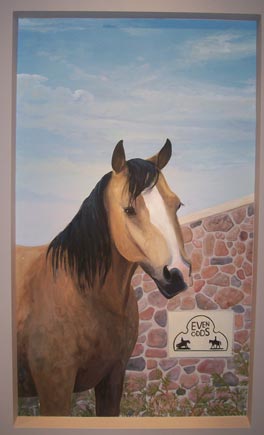 King of the Farm Forever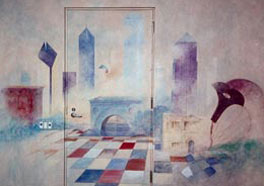 Chicago Landmarks to Revisit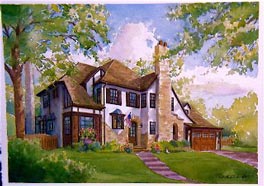 To See the Outside Inside
Murals – A Video Showcase
Blue People Fantasy
Few people can be called "Blue People."
But if you really love the color blue, you surround yourself with blue because it nurtures you…
Chicago –
My Kind of Town
Scott was looking to create a "wow" factor for his pad on a high floor of a Chicago Downtown building…
Mural painting keeps special memories alive
A mural enables you to preserve the memory of a special place you visited or a special moment in time. Mural painting gives you the opportunity to incorporate a person dear to you into a painted scene. The same thing is true for your favorite pet, animal, or any creature in nature. Our team of artists is here to help preserve your memories.
A mural can bring a fantasy alive for you
Our mural painters have the ability to capture your vision and help bring it alive on your walls, ceiling and even your floors. You may have the idea of transforming a closet into a wine cellar, complete with a view of the vineyard and the aging barrels. Or you may have the idea of transforming a room into a space station, complete with control panels and views of out-of-space. Your ideas are worthy of being brought to life in a mural.
You can hide unsightly areas with a mural
On occasion, mural painting can help you hide some features in a room that you would rather live without. For example, a utility panel or a door can be made to virtually disappear as they get incorporated into a mural. You can also create what you wish were there, like a balcony overlooking a magnificent balcony, painted at the end a hallway in your house.
Mural painting surrounds you with what you love
Murals help surround you with what you love most. It can be flowers, a garden, nature, sky, water; what ever nurtures you. Our mural painters are there to faithfully reproduce the work of nature in your home, so you can be inspired every day.
Our muralists have fun with kids' rooms too
Kids have a vivid imagination and we work with them (and their parents) to make their bedrooms a special place through the use of painted elements and murals.
We can paint your mural on canvas and hang it like wallpaper
Mural painting can be done over a canvas and installed like wallpaper. There are two main advantages to painting murals on canvas. First, it reduces costs by eliminating travel. Second, the canvas installation makes your mural "portable"! If you decide to move, you can take it with you and install it in your next house. Alternatively, you later give the mural to a family member.