Faux Bois and Wood Graining
What You Can Expect
Freedom from expensive replacement of woodwork and cabinets
The look of stained wood on any painted surface
Wood colors that blend in with existing wood tones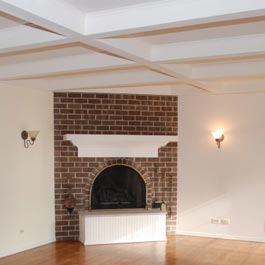 Before Wood Graining
What We Do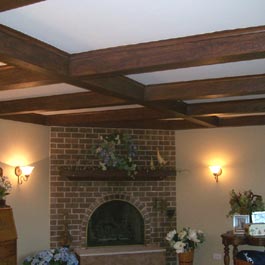 After the Faux Bois Painting
Painted trim, beams and windows made to look like stained wood
Fiberglass or steel doors finished to look like wood
Metal floor vents matched to surrounding wood tones
From painted white trim to the look of walnut
At Painting in Partnership, we can transform your painted trim into the look-alike of walnut, mahogany or any other wood type and color you like. We utilize faux bois techniques to produce that result. We use a combination of tools, and techniques to give you the look you want.
Giving your fiberglass door or metal door the look of wood
When you purchase a new fiberglass door or a metal door, it usually comes primed and, on occasion, it comes with a finish coat. If it is the front door, you might want to give it a rich wood look by using special stains and tools. On occasion, all the trim, doors and windows in your house are stained and varnished, except for your new primed or painted door. Faux bois and graining techniques can then be used to make the new blend in with the old.
Faux bois and wood graining are "green"
On many occasions, using faux bois and wood graining techniques saves you from having to remove and dispose of painted wood trim or other decorative elements; you recycle the old! Many times, because you save on carpentry and materials, you also save money in the process.