Garage Door Refinishing
What You Can Expect…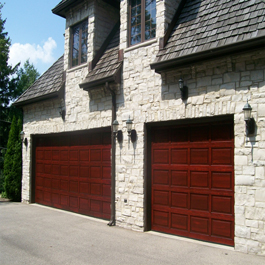 Beautiful Wooden Garage Doors
Garage doors that welcome you home brilliantly
An end to the flaking, milky, faded look
Your garage doors are attractive all year long
Your garage doors will look like furniture in your home
A low cost maintenance program that keeps your garage doors looking like new
The peace of mind of knowing that you have a permanent solution
What We Do…
Safely remove old coatings
Restore and consolidate wood where needed
Protect adjacent surfaces
Replace worn out weather stripping
Custom-mix color to your satisfaction
Apply a flexible and durable finish to your doors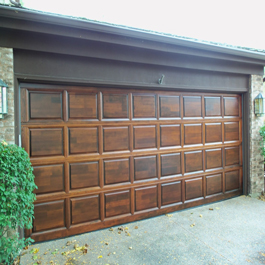 Welcome Home…
Preserve the beauty of your wood garage door
If you are a wood lover, there is nothing like pulling up in your driveway at the end of the day and seeing those shiny wood garage doors welcome you home! You can avoid having to strip the existing varnish and start over, if you periodically maintain the finish on your garage doors. You preserve the beauty and save money at the same time.
The sun can wreak havoc on the finish of your wood garage door
In the full sun, the surface temperature of a stained and varnished wood garage door can rise dramatically and drop sharply when the sun goes away. Consequently, these wide temperature swings leave your doors vulnerable to rapid deterioration. The varnish will often turn milky, become brittle and start to flake off, especially on the rail elements. Once the varnish begins to fail, moisture is the next intruder, accelerating the degradation of the varnish and the wood itself. The exposed wood also begins to turn gray.
Restore the good looks of your garage doors, while preserving them
When the coating has badly failed, the only viable solution is to strip the old finish and start over. This is a messy, costly, but necessary step in order to stop the doors from deteriorating further and bring back their natural beauty. If wood elements have begun to rot, they must be restored with epoxy or replaced with new wood. The weather stripping must also be checked out closely and replaced if it has begun to fail.
Periodic maintenance saves you money!
If your garage doors are in a sunny exposure, it is essential to have them inspected every two years for signs of deterioration, especially on the rail elements. If we find signs of deterioration we clean the doors and touch up the stain where needed. We then re-varnish the doors and you are good to go for another two years. That process is rather inexpensive, compared to the cost of stripping the finish and starting over. Plus, your doors continue to look great and are protected from the elements.