Concrete Finishing
What You Can Expect
Concrete surfaces that are easy to clean and durable
Concrete surfaces that are as attractive as your interior decor
Concrete walkways that are protected from the elements
Concrete surfaces that welcome you home!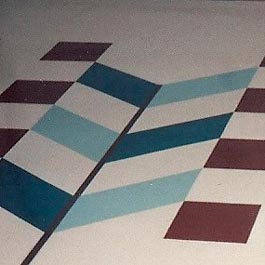 A Stylized Tree to Guide You In
What We Do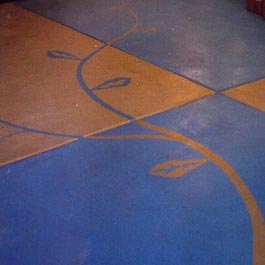 Letting Your Imagination Go
Finish garage floors, basement floors, sidewalks, walkways
Remove oil and grease (emulsify) from surfaces
Power wash surfaces
Acid-etch when needed
Use waterborne epoxies, aggregates or stains as appropriate
The garage floor is the first surface leading into your house
The garage floor is the first surface you step onto from your car. An unfinished garage floor is an easy place to dirty up and, therefore, a hard place to clean and keep clean. Your garage floor can be painted with coatings specifically designed to resist the heat from tires and the salt from the roads. You are not limited to gray either. Concrete coatings come in a variety of colors and colored aggregates can be added to the paint to introduce additional colors. Let your floor welcome you home!
Good preparation is the key to successful concrete finishing
Finishing a concrete garage floor requires a good amount of preparation. Before acid etching the concrete surface, the floor must be carefully cleaned. An emulsifier must be used to remove oil residue. Skipping that step will cause the coating to fail. The floor must then be power washed to remove the dirt and grime and allowed to dry completely before the coating is applied. It is also a good idea to protect the walls with plastic sheeting before starting you concrete cleaning.
Concrete is a blank canvas
If you are thinking of doping concrete finishing, you are not limited to one color. In fact, there is quite an array of colors. Additionally, we can incorporate motifs, even stencils in the floor designs. Acids can also be used on concrete floors to produce a truly unique look for your concrete.
Waterborne epoxies are a great choice for concrete finishing
Waterborne epoxy is a very worthwhile substitute to solvent-based solid color epoxy in a home setting. Solvent-based epoxy produces strong off gassing from the solvents used in the product. Waterborne epoxy floors are easily cleaned, durable and attractive.