Restoration and refinishing are "Green"
Here, our commitments to the environment and restoration unite.
The wood restoration we do helps preserve old windows, timbers and trim, which otherwise would have to be discarded and replaced. To accomplish this, we use epoxy consolidators and fillers. We also do plaster restoration. We use different techniques to consolidate and repair damaged plaster and extend its useful life. In the paint restoration work we do, we use environmentally friendly strippers, as well as infrared stripping equipment to safely remove old paint.
By refinishing existing cabinets, as opposed to discarding them, we also help out the environment in a similar way.
Zero and low VOC paints are good for the environment!
Many clients are sensitive to chemicals and pollutants in their home environment. Painting projects can generate substantial amounts of pollutants. They can come from the cleaners, solvents and VOCs in the paints and coatings we use.
In the last decade, the painting industry has responded by developing a wide array of zero and low VOC paints and coatings. Some products are made with natural ingredients such as milk, clay or lime. In addition to being good for the environment, lime based products are fire and mildew resistant and allow for walls to "breathe."
All the major manufacturers have developed a wide array of zero and Low VOC products. The performance of these products is constantly improving and, in some occasions, exceeds the performance of solvent-based products or paints with a higher VOC content.
Reducing dust and odors is good for YOUR environment!
Improving your comfort level during the course of your painting project is important to us. Using dustless sanders when possible and keeping air purifiers working day and night are two ways we use to make your life more comfortable while we paint for you.
A "Lead-Safe Certified Firm" keeps you safe in your pre-1978 house and protects the environment at the same time!

Painting in Partnership is certified by the EPA as a "Lead-Safe Firm" and we have three "Certified Restorers" in the company. All our painters have been trained to follow the procedures prescribed by the EPA to keep you and your family safe when we disturb surfaces that contain lead. If your house was built prior to 1978, and it is "child-occupied" as defined by EPA, we will follow EPA-recommended practices to manage your restoration project. We will give you the "Restore Right" pamphlet and make sure your space is left in a clean state when our house painting work is completed.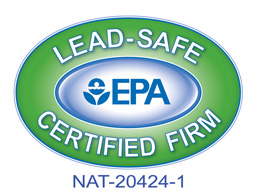 Painting in Partnership is certified by the EPA
as a Lead Safe Certified Firm.
Keeping your home environment safe when we work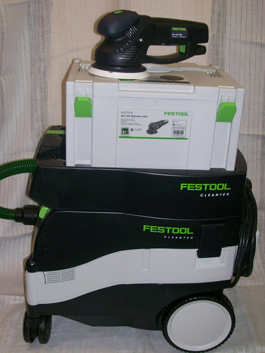 Our Festool equipment keeps your home environment safe and clean
When our house painters work on pre-1978 housing, we use a state-of-the-art HEPA high-efficiency dust extractor from Festool called the CT 22 E. When we sand or strip surfaces, the on-switch of the sander automatically activates the vacuum and idles it when it goes off. The RO 150 Sander uses sand paper specially designed for each task at hand, that it be polishing, sanding or stripping. The use of such equipment keeps you safe in your home environment, while we do our house painting work.