Gilding and Metal Effect
What You Can Expect
The look of metal on any surface, including drywall
The stunning look of real metals like gold, silver, platinum or their composite leaf look-alikes
Exciting painted alternatives for your favorite metals
A re-creation of the opulence of years past or a statement about the present or future
A "touch of class"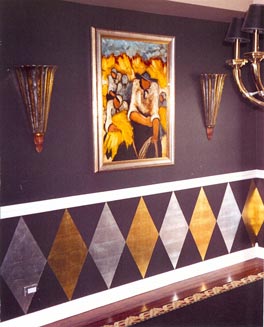 For the Drama of
Gilded Gold & Silver Diamonds
What We Do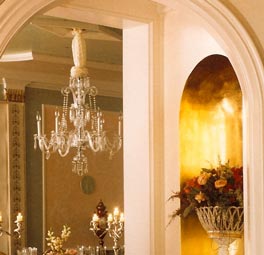 Nothing Sparkles Like Real Gold
Traditional gilding from 12 to 24 carat, or platinum
Other metal leaf gilding such as composite, copper, aluminum, variegated and mica powders
Gilding on wood, plaster, drywall and metal
Use a wide range of metallic paint colors for interior and exterior use
All That Glitters is Not Gold…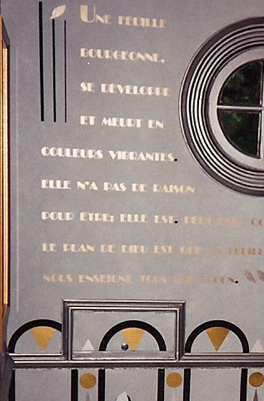 Metallic Paints for a Touch of Art Deco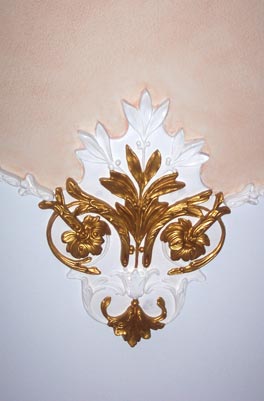 Metallic Paints to Highlight Molding Details
Gilding and Metallic Effects – A Video Showcase
Gilded Decor
Once upon a time, there was an elegant 1920s lake-front residence on Chicago's North Shore…
You can have the look of metal on any surface in your home
You can have the look of metal on ceilings, a niche, moldings and walls. Metal leaf or metallic paints can be applied over drywall, plaster, wood, metal, plastic and even glass. The key is to use the appropriate primer to ensure good mechanical bond with the surface to be decorated.
Metallic paints are worthwhile substitutes for metal leaf
In the last decade, the painting industry has developed many exciting metallic paints that can be used both inside and outside. Those paints can be rolled, brushed, sprayed, even sponged on. Because many of these metallic paints use mica powders, a great variety of colors and looks can be achieved. Using metallic paints gives you a metallic look at a lower cost than real metal.
Real gold, silver, copper, platinum or composite leaf make surfaces look like real metal
Metal leaf is real metal, hammered into a tissue-like thickness and held in place by a tacky varnish. Often, the leafed surface will be varnished to give added protection to the metal leaf or shield it from the oxidation process. The process is relatively labor intensive. However, it gives you the reflectivity and brilliance only metal can give you. Glazes or acids can be used over the metal leaf to give it an aged or distressed appearance. Metal effects are cool!