Deck Finishing
What You Can Expect…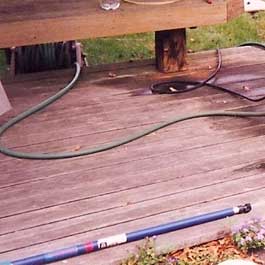 A weathered deck, in need of a little TLC.
Your investment is well protected
Your flowers and landscaping are protected from harmful products
Your deck is attractive all year long
There is no product, except on the deck surfaces
Longevity that meets or exceeds manufacturer warranty
What We Do…
Strip old coating when needed
Power wash deck thoroughly
Use wood brightners to bring out natural coloring
Use transparent, semi-transparent
or opaque finishes to enhance
the beauty of the wood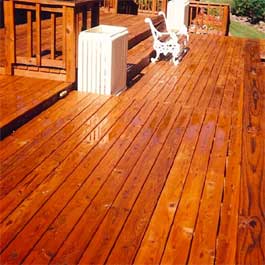 Your deck will look as good as new again
– maybe even better –
after refinishing by Painting in Partnership.
We clean your old, weathered deck to make it look like new
A deck is an expensive asset. The wood must be protected from the moisture in order to stay sound and retain its beauty. When the protective film wears off, moisture is allowed to penetrate into the wood, discoloring the fibers, causing the wood to split and eventually rotting the wood. Additionally, if you have trees around the deck, resins from the trees can make the deck slippery and create a hazard.
We use wood cleaners and brighteners to bring life back into your deck, make it look like new again and protect it from the elements. Your deck is then power washed and then stained.
We strip the failed stain from your old deck and re-finish it
In some cases, the old coating or stain has deteriorated so badly that it needs to be removed from your deck surfaces before a new deck stain can be applied. We use environmentally friendly strippers to remove the old coating. Wood brighteners will also have to be used prior to doing the deck re-finishing.
Waterborne deck stains present major advantages
It used to be that solvent-based deck stains were the product of choice. No more! Solvent-based stains have several drawbacks. First, the wood had to be completely dry before the deck could be stained. Over time, the oils in the stain promotes the growth of mildew which feeds on the oils, causing the wood to look darker and darker. Waterborne deck stains can be applied over moist wood, have good color retention and do not promote the growth of mildew.