Cabinet Refinishing
What You Can Expect
A darker, richer look for your old cabinets without stripping
An expensive glazed look by painting and glazing your varnished cabinets
Give your old woodwork a fresh look
Save thousands over the cost of new cabinets or stripping old finish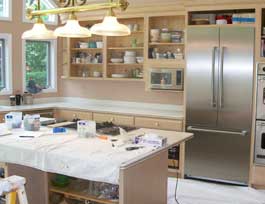 Before cabinet refinishing
What We Do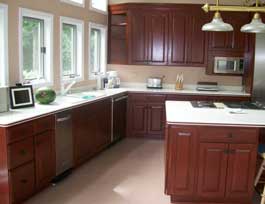 After cabinet refinishing
Apply special bonding primers to varnished cabinets to
ensure good adhesion
Create stain glazes to alter the color of the cabinets
Add a thin layer of stain and varnish to existing stained woodwork to give it a fresh look
Giving your cabinets a darker, richer look without stripping them
The painters at Painting in Partnership can completely alter the look of your stained cabinets from a light oak or a pickled look, to a darker, richer stained look. We can give you the look of mahogany or walnut without having to strip your cabinets. We use a bonding clear primer, two coats of a customized stain-glaze and one or two varnish coats.
Glazing your cabinets to give them an aged, sophisticated look
If you are tired of the "stained" cabinet look, our painters can paint them and have them look as if they came out of the factory. We can also wipe on a glaze and then wipe it off, leaving it in the recesses to give your cabinets a distressed, sophisticated look. A variety of other glazing techniques and decorative painting methods can also be used to give your cabinets a truly distinctive look.
Cabinet refinishing is "double green": saves you money and benefits the environment
Replacing cabinets is an expensive proposition! With demolition and installation costs, new cabinets can easily cost $20,000 to $50,000 or higher, depending on your choice of cabinets. Refinishing your cabinets will only cost you a fraction of that amount. Additionally, your will protect the environment by keeping your old cabinets out of the landfills.
Essential steps prior to painting cabinets
Prior to refinishing cabinets, our painters take a few preparatory steps. First, the handles are removed. Then, the cabinet surfaces are cleaned to remove any oils from the hands or any other contaminants commonly found in kitchens. The door hardware is carefully removed, bagged and numbered to ensure proper re-installation after the painting activities. The refinishing process can now begin.