Mural Painting is an opportunity to preserve a memory. This reality was made clear on a recent house painting project by Painting in Partnership. On occasion, as painting contractors, we have the opportunity to capture a client's memory and bring it to life in the form of a painted wall mural and preserve it forever.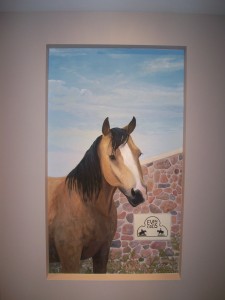 We did the exterior painting, interior painting, as well as the staining of the knotty pine logs, doors, windows and trim on a house that had been completely gutted. Yet, something seemed to be missing to complete this unique Western-style décor.
Having been a "cowgirl" for thirty five years, raising and training show horses, our client was looking to have her retirement house be a place where she was surrounded with the memories of the life she had left behind. The idea came to me to paint a wall mural as a thank gift to this wonderful client. The question was: "What kind of mural could we paint for her?"
I asked her son if his mom had had a horse that was very special to her. He immediately said: "That would be Buck," He proceeded to tell me Buck's story. I asked him if there was anything else we could incorporate in the mural painting. He suggested the gate of their old horse farm. The mural concept had come together for me.
The mural painting was done over a canvas and hung like by our wallpapering specialist. Our client had no idea a mural was being painted for her. On installation day, we draped the area and asked not to peek! The intensity of her reaction to seeing "her Buck" was a gift to all of us at Painting in Partnership. "Buck's memory was preserved forever as the "King of the Farm."
Do you have such a memory you are looking to keep alive through a mural Painting?