We have been in business as painting and decorating contractors in the Chicago area for over 28 years. During that time, we have seen many changes take place in our industry. One major change has been the plethora of new paints that was brought to market by manufacturers. A major impetus for those innovations was the need to adapt to new governmental regulations regarding VOCs in paint. Another major shift, although much less publicized, has greatly reduced the labor pool available to our industry, thereby very significantly increasing labor costs and the price of your paint jobs in 2017. Let's examine the two main reasons for this shift.
A- Scores of Painters Dropped Out of the Industry
Starting in the Spring of 2007, the residential painting market started to go into a recession, a good eighteen months before the rest of the economy. In the Fall of 2008, the other shoe dropped and the economy entered its worse recession since the Great Depression era – it was very long and very painful. The field of residential painting did not start to sustainably recover until 2013. That was a six-year stretch! During that period of time, a lot of people exited the field of painting, learned new skills and never returned to painting. This is also true for most of the trades. There is a major shortage of trained workers in painting and the trades in general. That shortage has resulted in major wage increases and higher prices to consumers.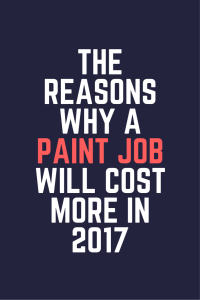 B- Scarcity of Young People Entering the Trades
Young people generally do not look at painting and the trades as a viable career track. Part of the reason is cultural: our culture regards the trades as less glamorous than other fields, like technology, health care, business for example. The other part of the reason is that the painting industry has done a very poor job at marketing painting as a viable career track for young people.
Typically, contractors advertise online for already trained and qualified people, in spite of the fact that the quality of the people in the labor pool has diminished a lot. This is a strategy that is proving very frustrating in this current labor market. A more promising alternative is to mine High Schools and Trade Schools: attract young people early, help train them and retain them as young super stars in one's company. In the long run, such a strategy could help contain labor costs and soften price increases to the consumer.